On this ☂rainy ☁, ☼ sunny ☼, ☂rainy☁ , ☼ sunny☼ ,☂ rainy-sunny ☼ Saturday I was pleased to stumble upon a blog called "Web of Whimsy" and a fun linky that's called Whimsical Week. So what's the "dealio" with the
"linkio"? It's a place to share your "whimsical" art that you created during the past week...it's put to a vote on Tally Tuesday...hehehe) to see who is bestowed the title of "Wizard of Whimsy" for each week of submissions. I thought how absolutely, definitely, amazingly, perfectly whimsical and fun. So I gathered all of my Pop Art Mini works from the past week and placed them here as my entry into this weeks...
Whimsical Week #15
...and am now crossing my fingers, toes and eyes to become a "Wizard of Whimsy".
hmmm....looking back it seems I had a thing for hats!
Layers of stacked hats, The Cat in the Hat and a Pirate Hat...now how do you like that!
Oh, and there's one more thing I have to do to be able to enter...answer this question
Would I rather be a slide or a swing!
My answer...
"A SWING"
Back and forth flying high into the sky
That is definitely my reason why
Although a slide is very nice too
I can't stand still...that just won't do!
I do believe I've been inspired for a next Pop Art Mini...hehehe
Thanks Web of Whimsy!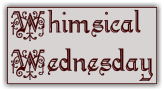 Voting starts in 2 days...check back for the Tally Tuesday Link!